On July 28th at 05:10 am in Rome
our most beloved
MOTHER TRINIDAD DE LA SANTA MADRE IGLESIA,
Foundress and President of The Work of the Church,
has been brought towards Eternity
At this time that leaves us all deeply moved and shaken, we want to repeat, together with Mother Trinidad, the motto of her whole life:
Glory for God…! That alone…! The rest does not matter…!
Information
Mother Trinidad has been brought towards Eternity on the early morning of July 28th.
The funeral chapel was set up in the House of St. Peter the Apostle, seat of The Work of the Church in Rome. For four days a steady influx of people, arrived from several countries, including some from America and Africa, wanted to pray before the coffin and to bid a final farewell to Mother Trinidad.
The Holy Mass for the funeral was celebrated in the Basilica of St. Paul Outside the Walls in Rome, on Sunday 1st  August at 3 p.m., presided over by Bishop Cesare Nosiglia, Archbishop of Turin and Bishop of Susa, and concelebrated by several Bishops and a large number of priests. More than a thousand people attended the celebration, despite the difficulties and restrictions in place.
At the end of the Holy Mass, Father Francisco Javier Vicente, General Director of the Priestly Branch of The Work of the Church, thanked the Bishops for their presence, as well as the many signs of affection and closeness of Bishops from all over the world, who have been unable to travel to Rome due to the sanitary circumstances, but who have wanted to manifest their spiritual union and assure their prayers.
Accompanying these lines you can find the recording of the celebration and a selection of photographs of the event
Funeral Mass for Mother Trinidad  at the Papal Basilica of Saint Paul Outside the Walls
Funeral Mass for Mother Trinidad de la Santa Madre Iglesia
"I was born for the Church, solely for this, God created me in His infinite design so that I might be 'The Echo of the Church of mine,' and might sing Her song and manifest Her riches. I was born to be Church, to be in the midst of mankind a living expression of Her profound reality, of Her infinite song and of Her heart-rending tragedy (…)."
(From the writing "I was born for the Church" – Letter No. 20)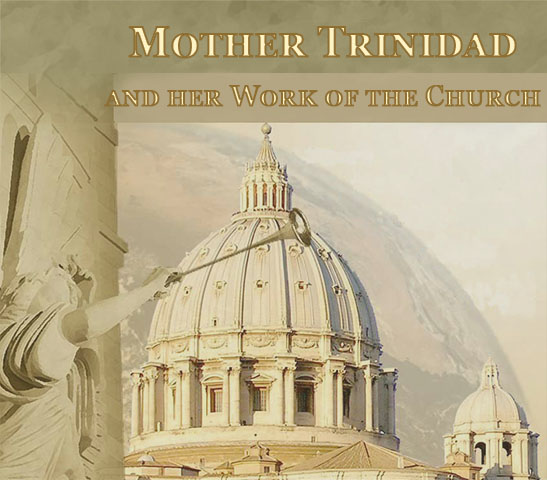 Biographical narration about the foundress and her Work of the Church. Included are some of her own words that gradually illustrate some of the main events that occurred in her life and her personal experiences.